Windows Ancient Edition is an operating system installed by typing "kill explorer.exe" in Windows XP. This is a parody of Windows 2000 and Windows XP, starting in build 2315 it lacks alot of features such as Internet Explorer or File Explorer. The operating system was known to be "unstable" like Windows ME and Windows Unusable. As time went on, the OS was becoming less unstable.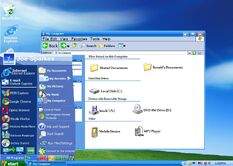 It's last release was build 3462 which was build on June 23, 2005. The first build had only 5 updates but they are unknown. For computers over 2002, people were asked if they could install Chrome or Opera.
The last release of Windows Ancient Edition was supported until December 25, 2014.
About The OS
Source Model: Closed source
Released to manufacturing: January 16, 2001
General avaliability: November 13, 2001
Latest release: Build 3462 / June 23, 2005; 11 years ago
Update method: Windows Update
Support status: Mainstream support ended on July 13, 2010.
Extended support ended on December 25, 2014.
Known Bugs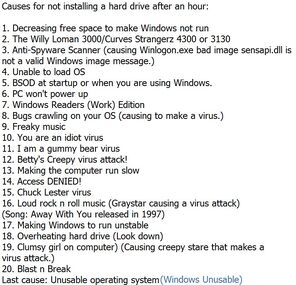 These are the list of issues that occur when you don't install a hard drive after an hour. The setup doesn't want to install it. This occurs in Build 2315 to Build 3371 of Windows Ancient Edition:
Decreasing the free space to make Windows not run
Bugs Crawling on your desktop
Freaky Music on the top volume
Betty's creepy virus attack
Technological Specs
Boot Time on Startup: 30 minutes and 51 seconds
50 MB of RAM
Intel Pentium 4
Processor Speed: 490 MHz
Builds
These are builds of Windows Ancient Edition:
History
Windows Ancient Edition was first a beta operating system with Beta 1 released on January 16, 2001.
Video