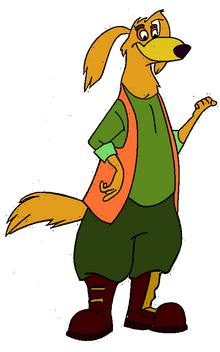 Theo is one of the main characters in K9.5. He serves as the bassist.
Character Bio
Cool and collected, Theo is K9.5's poetic bass player. He was born in Chihuahuago. Theo grew up helping in his parents' used-record shop. He loved to sit in the back and write poems while listening to the music being played in the store. His poems always reflected the type of music being played: classical, rock-'n'-roll, or jazz. Over time, Theo developed a great love for the blues. He bought an old double bass from a second-hand shop and taught himself how to play it.
Theo's family moved to Springerfield shortly after his tenth birthday. He met Gershwyn in gym class, and they quickly became good friends.
Quotes
"My name is Theo. I play the bass. Low, so low. That's how I say it, that's how I play it."
"Did you ever hang loose with a moose?"
Trivia
His birthday is on January 13th.
Gallery