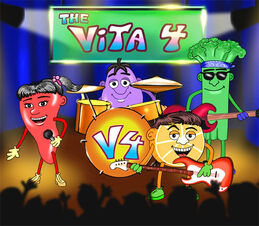 The Vita 4 is an animated fruit and vegetable rock and roll band that taught children about healthy lifestyle and healthy eating. Their slogan was "Get up, get out, and get moving!". The members of The Vita 4 were Pepper, CJ, Eggy, and Broc. Their commercials are considered lost media nowadays since almost no one bothered to upload them to social media. However, they use to air very frequently on CPTV in the 2000s and 2010s.
There was also a DVD called The Vita 4 that came out in the mid 2000s that featured a workout with Pepper and even some curriculum as well. However, the DVD itself is extremely rare.
The Vita 4 even had a Facebook page but their last post was in 2015 and the latest mention of The Vita 4 is a YouTube video by CT STYLE showing Jill Nesi and The Vita 4 in real life performing the song "I Really Like My Peas" on Stage 8. The song appears to be an extended version of the one used in the commercial.
Found Commercials
Edit
Vitamotion
Peas Please
Moving is Magic #1
No Breakfast But Water
Eggy the Rockstar
Broc Feels Sick
Exercise Song
6 of these commercials have been uploaded to The Vita 4's official YouTube and Vimeo channels. But as of April 24, 2019, Brian Coukis uploaded the ones from Vimeo and put them on his channel and came up with titles for the commercials since they all said "Untitled" on Vimeo. He also uploaded the 1st Moving is Magic commercial that aired on CPTV in the past.
Community content is available under
CC-BY-SA
unless otherwise noted.