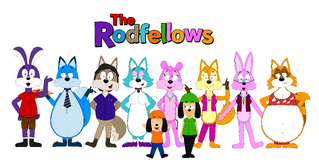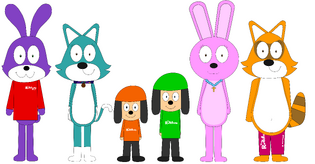 The Rodfellows (also known as The Jungle Forest Gang) are a group of anthropomorphic animals created by Dan P. Lyons.
Current members
Edit
March - April 2014
Edit
The Rodfellows characters were first made on March 17, 2014 by Dan P. Lyons. Usually, it was going to be a stop-motion series for Shooting Star Productions, but it was going to be for Story Choice 102. After the day the characters were first depicted, the pilot episode "Voice Auditions" was created using Adobe Photoshop CS6 and Windows Movie Maker for XP. This would go the same for the actual 18 episodes of the first season. The voices were recorded from GoAnimate (now Vyond) using Mono Mix from Windows Movie Maker, the animation frames were created using Photoshop CS6 and were synchronized in WMM.
April 15 - 29, 2014
Edit
The second season of The Rodfellows began on April 15, 2014, this time using Photoshop assets, and consisted of 15 episodes.
Filmography
Edit
The Rodfellows 2014 (April 9 - June 18, 2014)
The Rodfellows Flash (September 22, 2014)
The Rodfellows 2015 (March 31 - May 22, 2015)
The Rodfellows Improved (August 29, 2015 - November 8, 2016)
The Rodfellows: Back Again! (September 27, 2018 - present)
The Rodfellows Go Disney (August 20, 2017)
It's the Great Rodfellow Pumpkin (October 30, 2017)
Thanksgiving with the Rodfellows (November 23, 2017)
Once Upon a Rodfellow Christmas (December 24, 2017)
Valentine's with the Rodfellows (February 14, 2018)
The Rodfellows Movie (November 25, 2020)
Community content is available under
CC-BY-SA
unless otherwise noted.