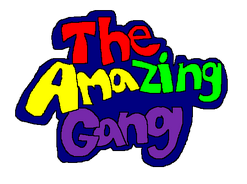 The Amazing Gang is an upcoming DeviantArt/YouTube/Vlare cartoon series that is set to premiere on June or July 26, 2020. It is all about the adventures of Brian's OCs. There will also be some animations on Brian Coukis the 90s Kid and briancoukis88169's accounts based on the art. The series will be produced by Brian Coukis Productions, Studio JND, Windmill Hill Entertainment, and distributed by Harmonic Television.
Pip Pip is also making a Vyond series, which is coming soon. The opening intro was uploaded so far.
Notable Characters
Main
Minor
Jerry the Dinosaur
Jamal the Bee
Boris the Fox
Benny the Wolf
Chazer the Dog
Sammy the Dog
Cast
Brian Coukis - Melvin the Fox
Pip Pip - Rocco the Master Cat
Juli DePallo - Fiona the Dogcoon
Almir Velovic - Albert the Skunk Cat
Dan P. Lyons - Marcus the Moose / Reiss the Bear
Kenzie Backlin - Sophie the Alligator
Trivia
From early-mid 2019, Tiffany originally wasn't going to be in The Amazing Gang, and Sammy the Squirrel (the main protagonist of Sammy's Shrinking Feeling, an animated short film), Boris the Fox, Lorry the Chihuahua, and Wally the Kangaroo (from Wally Down Under) were also going to be part of the main cast, but in August 2019, Brian decided to scrap those characters from the series completely (with the exception of Boris the Fox, who will become a minor character in the series.) and make Tiffany part of The Amazing Gang instead. The series' logo originally wasn't in a emblem and its color scheme was different. Instead, of the "Ama" part being yellow and the "zing" part being green in the word "Amazing". The entire word half-colored dark blue and a darker shade of green and "Gang" was yellow instead of purple.
In the Vyond series, the show takes place in Springerfield, which is the same town where the K9.5 members live in.
This is the first production by Brian Coukis that will have different voice actors instead of Brian voicing every character.
Pip Pip Enterprises, Inc. co-produces the series through its Windmill Hill Entertainment label.
Gallery