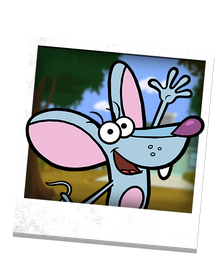 Squeeks is a mouse from Nature Cat and Fred and the Nature Gang.
Squeeks is a daring, fearless nature explorer. She's a reliable mouse who is always up for adventure. She's a tough mouse who isn't afraid to get dirty. Living in the wild, she knows a lot of animals that are always eager to help out.
In Hammocks Animation's show Fred and the Nature Gang, she is a whiny mouse who gets upset when someone steals her cheese, or when someone says she was wrong about something. She also doesn't trust Cruiser the Squirrel and Hal's best friend Charlie. She has three sisters, four brothers, a cousin named Marvin (who also appeared in the 2015 series), and a grouchy aunt.