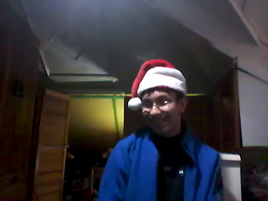 Santa Brian is one of Brian's alter-egos disguised as Santa, but he has no beard and just a santa hat. He sang the instrumental version of the Denver the Last Dinosaur theme song in Brian Sings, a spinoff of Brian Dances.
On December 23, 2020, he watched Nature Cat: A Nature Carol with many of his plush dolls at his Yiayia's house, such as the Nature Gang: Nature Cat (aka Fred), Hal, Daisy, and Squeeks, as well as Tanya (in her fanmade 1979 appearance), Earl the Cat, Power Pup, Jamal the Bee, Froggy, Jimmy Neutron, Goddard, and Rocko.
One day later, he sang various Christmas songs such as Jingle Bells, O Holy Night, O Come All Ye Faithful, Rudolph the Red-Nosed Reindeer, We Wish You a Merry Christmas, and Santa Claus is Coming to Town, which he also sang in December 2018, during the time when his Brian Coukis The 90s Kid YouTube account was still around.
In that case, Santa Brian is doing remakes of the aforementioned Christmas songs he sang and will sing some new ones.
Appearance
He wears a santa hat without a beard and he's mostly Brian Coukis disguised as Santa Claus (as mentioned above)
Trivia
He sang the theme song of Denver the Last Dinosaur, even though it wasn't a Christmas song.
Santa Brian is a parody of Santa Claus.