Jurassic World: Dominion Dominates Fandom Wikis - The Loop
Play Sound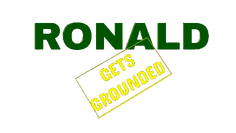 For a more in-depth view, check out the Ronald Gets Grounded Wiki.
Ronald Gets Grounded is an animated grounded series created by Pip Pip, that first debuted on YouTube on June 7, 2016. Based on Nature Cat, the series follows Ronald's antics that results in him getting grounded. The series is animated in GoAnimate/Vyond using the Comedy World theme.
The members of K9.5, Ella, Gershwyn, Maxine, Riff, and Theo, have made appearances on the series since November 13, 2018 during the fourth season.
Characters
Ronald
Ronald the Purple Cat is the main antagonist of the series. He is considered by many fans as the worst character on the original Nature Cat series, including Pip Pip, the creator of the RGG series.
Nature Cat
Coming soon!
Gwendolyn
Coming soon!
Squeeks
Coming soon!
Hal
Coming soon!
Daisy
Coming soon!
Episodes where K9.5 appears
Ronald Kills the K9.5 Gang/Grounded and Arrested (First Appearance)
Ronald Hacks Vyond And Gets Grounded
Ronald Gets a Punishment Day by the K9.5 Gang
Ronald Misbehaves at a K9.5 Concert
Ronald Ruins a K9.5 Concert...AGAIN!
Ronald Hosts A Slumber Party
Ronald Blows Up the GoCity Arena
Ronald Shaves Nature Cat's Fur/Assaulted
Ronald Steals Maxine's Pigtails And Gets Grounded
Ronald Robs the K9.5 Gang's House/Drowned in the Ocean
Ronald Becomes Huge
The K9.5 Gang Babysit Ronald
Ronald Ruins Ella and Gershwyn's Recital
Nature Cat and Gwendolyn Throw a Sit-On Party
Ronald and Miley Ruin the K9.5 Movie Premiere/Arrested
Ronald Misbehaves at Hal's Wedding
Ella and Gershwyn Babysit Ronald
Ronald Gets Grounded for Life
Ronald and Miley Lie to the Principal
Ronald Makes A Storm
Ronald Disrespects Google+'s Funeral
Ronald Ruins Ella's Birthday
Ronald Gives Ella a Concussion Time/Grounded/Punishment Day
Ronald Misbehaves on the Way to TSLOP 2
Ronald Crashes the Car into the K9.5 Gang's House/Grounded/Punishment Day by K9.5
Ronald and Miley Destroy and Ruin Gershwyn's Birthday/Grounded BIG TIME
Ronald Kills Nature Cat and His Friends/Punishment Day by Ella and Gershwyn
Ronald Witnesses the Strength of Street Knowledge
Ronald Shuts Down the City's Electricity System/Grounded/Arrested Again
Ronald and Miley Rant on K9.5/Grounded and Roadhoused
Ronald Destroys Ella and Gershwyn's Convertible/Grounded/Concussion Time
Ronald Blasts Ram Ranch On the World's Loudest Speaker
RGG on Brian Coukis
Brian has made vlogs on several episodes from Ronald Gets Grounded (especially Seasons 4 and 5) that feature the K9.5 gang on his terminated YouTube channel Brian Coukis The 90s Kid. Here is a partial list of some of the vlogs he made:
Me singing What You Can Dream from K9.5 and blog about Pip Pip's new Ronald videos featuring K9.5 (November 26, 2018)
Ronald becomes huge blog (December 25, 2018)
The K9.5 gang babysits Ronald and What You Can Dream song heard in Miley video (December 26, 2018)
Ronald ruins Ella and Gershwyn's Recital and the K9.5 Gang's cameo in the Sit-On Party video (January 25, 2019)
Ronald crashes the car into the K9.5 Gang's House/Grounded/Punishment Day blog (June 2019)