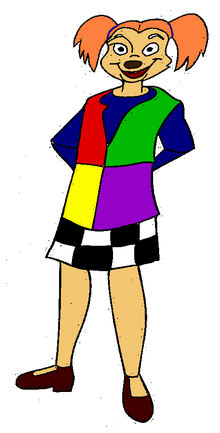 Maxine is one of the main characters in K9.5. She serves as the drummer in the band, and plays all other kinds of instruments, earning her the nickname, "Princess of Percussion".
Character Bio
Edit
Maxine, known as the "Princess of Percussion" is the drummer for K9.5. She is a Springerfield native. Her father is a layout artist for a fashion magazine, and her mother is a buyer for a catalog. Maxine first played the drums when her mother was evaluating a set for the catalog. Maxine was instantly captivated by the notion that drums communicate to people of all cultures. She soon started a collection of instruments with unique percussive sounds.
Maxine met Ella when they joined the same Pup Scouts troop. They have been great friends ever since.
"Move over! Maxine is here! They call me the Princess of Percussion! I'm always in style, and I never lose a beat!"
"Got it! Tape's full, it's time to get home!"
Her birthday is on February 25th.
Community content is available under
CC-BY-SA
unless otherwise noted.