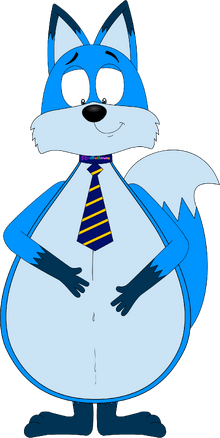 Kody J. Dendan is the 2nd current member of The Rodfellows. He also adores a child puppy dog named "Widenar" and also adores a teenage koala "Naomi". He also likes to hug and snug Widenar and Naomi too. The worse part is, he has to deal with a current Data Crew raccoon named "Grayson McCormikk".
Trivia
Kody has been adoring Widenar since he (yes, of course, Widenar) has admired him the higher level. (That includes Naomi)
He has an addiction to pizza alongside other foods such as chicken tenders & crisps, french fries and chicken burgers. Funny enough, he also eats healthy food such as apples, alongside other foods that don't have fat.
He got overly offended after Grayson called Kody some name which crossed the line.
He hates Grayson very much
He helps Finto keep The Rodfellows going properly, so that's what led him to being a partner of him (Finto, of course.)
Him and Grayson constantly start fights.
In his later appearances, his tie now has yellow stripes on it.
Information
Favorite Holiday: Christmas
Loves: Leather, Cheetos, Naomi, Widenar
Hates: Grayson, Hava, being called names like "Hitler" and "Francis look-alike ass"
Relatives: Kristine (Spouse), Naomi (Step Daughter)
Favorite season: Winter
Voiced by: Ivona Joey (2017–2018), Dan P. Lyons (2018–2019), Matt Crowley (2019–present)