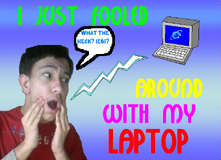 I Just Fooled Around With My Laptop is a YouTube video/vlog created and directed by cdgngj11.
Characters
Synopsis
One day, Brian notices this his AVG PC Tune Up 15-day trial ended and he was worried that his visual styles wouldn't apply correctly or show up. He then went to the Internet to search for a program that could apply visual styles and themes, he found one called Styler XP and installed it. However, he got an error message saying that Styler XP doesn't require his build of Windows XP and he didn't like it, so he uninstalled it. But when the program uninstalled he noticed that the Internet Explorer 8/7 icon restored back to the original Internet Explorer 6 icon that it came with. Brian believes that it downgraded him back to Internet Explorer 6 (IE6 for short) in just seconds and he was very disappointed about that and threw a little tantrum, which popped out the F10 key in the laptop keyboard. There was nothing he could do about it. Then, his dad, Peter Coukis was wondering why his laptop was broken and Brian explained it to him. He wanted his phone back but refused to by telling him "IT'S GONE FOREVER!!!!!!!!" and "You'll never get it back!". In the end, Brian begs "I WANNA GO TO SCHOOL!!!!".
Gallery
Trivia
The reason why Brian wanted to go to school was because his laptop was broken but his parents would be very worried about him, even when Brian still respects his parents.
In the last part of the video, Brian talks back at his father that he's going to school until he tells him that he's going to Yiayia's to eat supper and Brian's staying at his house alone.
Brian credited his laptop as "broken" because he thinks that teh problem is unfixable.
According to the new cdgngj11's comment, this video is also known as "Another Bad Day for Brian".
Video