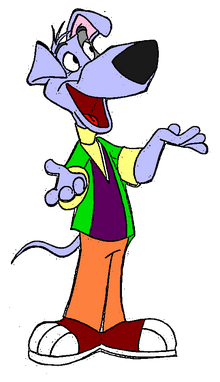 Gershwyn is one of the main characters in the PlayStation video game series K9.5 by Lightspan Adventures. He is the co-founder of K9.5 along with Ella, as well as the rhythm guitarist.
Character Bio
Edit
Always dreaming, forever optimistic, Gershwyn is the chief songwriter and rhythm guitarist for K9.5. He was born in a small town in Barkansas. He has always loved music, even as an infant. When he was a baby, his mother would quiet his crying by rocking him to the latest radio hits such as "Twist and Bark". As he grew older, his favorite groups became The Beagles and The Howlies.
When he was seven, Gershwyn's family moved to Springerfield. During the long car drive, Gershwyn wrote his first song. Inspired to write more songs, Gershwyn saved up the money he earned from delivering newspapers to buy a guitar. Soon he had composed a large collection of rock-'n'-roll tunes.
One day during one of his writing sessions, Gershwyn found himself stuck. He suddenly realized what he needed as a piano player. He raced over to the house of his best friend, Ella, and asked her to help. Even though she had played only classical piano, she was willing to help out. They composed their first song together that day; it was called "Stepping Out of My Dreams". It was then that they decided to start a band named K9.5.
"I'm Gershwyn, I play rhythm guitar. I also write most of our songs."
"And I'll do what I do best! I'll...get lunch!"
His birthday is on July 25th.
Community content is available under
CC-BY-SA
unless otherwise noted.