Carl in Space is an upcoming short that will be posted in 2019.
Carl goes to the bathroom and refuses to take the math test until he cuts school. He then finds a rocket in his garage then he goes on a wacky ride in space, until he causes a fire in his house and gets caught by the teacher.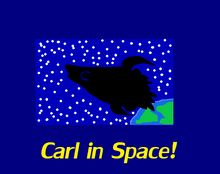 Characters
Edit
Carl Wheezer - The main character of the series. A boy with a pink shirt and green & red overall who refused to take the math test by cutting school and tried to find something to do, until he found a rocket that took him into space. He later got into trouble by Mr. Howard in the end of the short.
Mr. Howard - Carl's teacher who's strict and warmhearted. Him and Jamie went to his house to tell him not to cut school. His name isn't mentioned very much in the short, either.
Jamie - Carl's best friend.
Martha Wheezer - Carl's mother who had a talk with Mr. Howard about Carl not coming back from his bathroom break, while he is actually riding on a out-of-control rocket in space. She couldn't come home to punish Carl because she was still in work.
Mrs. Delswater - A substitute teacher who took over the class for a brief moment just for Mr. Howard and Jamie to find Carl and bring him back to the school.
Tonia - A space alien who refused to help Carl with the out-of-control rocket from moving so fast.
This was somewhat based on the beginning of the Jimmy Neutron 1998 pilot episode Runaway Rocketboy.
Carl Wheezer and his mother Martha Wheezer are from the TV show Jimmy Neutron, thpugh Carl is seen in his outfit from the pilot episode of said series.
Community content is available under
CC-BY-SA
unless otherwise noted.