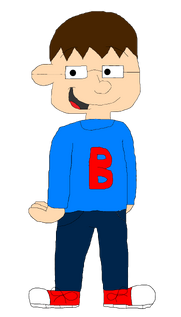 Brian Coukis is a 18 year old kid who loves K9.5, the 90's, Nature Cat, Windows XP, Jimmy Neutron, old cartoons, and other things related to that. He is smart, nice, kind, and handsome. He founded his YouTube account cdgngj11 in September 2010. But sometime in 2016, he changed the Peters Murphy Coukis YouTube account into Brian Coukis the 90s Kid, where it remained until its termination in August 2019. He also has an Instagram account called "briancoukisthe90skid" but Brian uploads stuff differently than his channel of the same name, and a DeviantArt account called briancoukis88169, where he posts art he created.
He also makes animations such as his productions and home video logos, as well as animations featuring K9.5, among others. He is also planning to make an animated web series called The Amazing Gang, which will premiere in May 2020 on YouTube, Vlare, and DeviantArt.
He also provides the voice of Zander in the upcoming 2020 film The Rodfellows Movie.
Birthday
Edit
May 13, 2002
Good ol' 2D animation, VHS Tapes, K9.5, Lightspan Adventures, The Rodfellows, Jimmy Neutron, Windows XP, Collecting rare stuff, British cartoons (especially the old ones), Obscure cartoons, Books, Keeping track of his popularity, Nature Cat, Getting attention, getting liked, Nice things from Santa, Yiayia, Risha, Peter, The 90's, Kipper the Dog (especially when he was little), McDonalds, Burger King, Wearing cool clothes, Dunkin Donuts, Dancing, Singing, Reading, plush toys, Good report cards, Old 90's CGI animation
Dislikes
Edit
Rude people, Whistling (especially in concerts), Getting leg cramps, Sirens, Stuff that startles him, Asteroids hitting earth, Error messages, Getting caught by Risha, His YouTube account(s) getting terminated/suspended/banned
Personality
Edit
Brian is smart, kind, handsome, and well-behaved. He occasionally speaks with a Southern accent sometimes, but he mostly speaks more often in his British accent.
Filmography
Edit
The Nissa Series (2015-2016)
The Amazing Gang (TBA 2021)
Carl in Space (TBA)
The Good Ol' Days (TBA)
Naughty Sam (TBA)
Sammy's Shrinking Feeling (TBA)
R.I.P Google Plus (TBA 2020)
Orville and Hooch's Punishment Day (TBA)
The Amazing Gang and the Termination of Brian Coukis The 90s Kid (TBA)
Horace and Thorben: The Polar Bear Adventurers (TBA)
Dog Gone's New Member (TBA)
Nature Cat: Back to the Hammocks Animation Era (TBA)
K9.5: I Will Love You In This Storm (TBA)
Backpack Trouble (TBA)
Tanya V.S. Her 2015 Appearance (TBA)
Dance with Wally (TBA)
Mars Moose's Cosmic Dance (TBA)
Earl's Boogie (TBA 2020)
Goodbye to Flash Player (TBA)
Sophie's Sleeping Video (TBA 2020)
The Rodfellows Movie (2020) (Voice actor only)
The Rodfellows: 6 Year Anniversary Special (Voice actor only)
Zander & Zayden's Joyride (2020) (Voice actor only)
Why Does It Have to Be Scary Logos? (animated segment on the "Scary Logos Theater 2018 Edition!" video) (2018)
The Viacom V of Doom Scares Everyone! (animated segment on the "Scary Logos Theater 2019 Edition!" video) (TBA)
Ball Travel 3D Playthrough, Part 20 (animated segments on said video) (2020)
Nature Cat Getting Dressed (TBA 2020)
The Amazing Gang: Character Introduction Animations (2019 for Rocco's introduction, TBA for the rest)
Melvin Plays Basketball (TBA)
Happy 20th Birthday to Pip Pip! (2020) (short animation to celebrate Pip Pip's 20th birthday and the 7th anniversary of Pip Pip Enterprises Inc.)
Catchphrases/Quotes
Edit
Hi everyone! I am Brian!
GOD DANG IT!
There's a problem.
It's running extremely slow.
I"m making a video!
I'm going to school! - I just fooled around with my laptop
NOT AGAIN! NOT AGAIN! NOT F***ING AGAIN! (when Opera 7.0 kept crashing) - Opera 7.0 Browser Test (Eh, Sorta)
I'm so forgotful! (I meant "Forgetful")
Who needs an HDTV when you got this? - Cable working on a 90s TV!
That was amazing!
So, yeah!
K9.5 rocks!
(Referring to K9.5) Best cartoon rock band ever!
That's all I got to say for this video and... (says his closing dialogue).
Main article: Brian Coukis/Gallery (other photos)
Community content is available under
CC-BY-SA
unless otherwise noted.